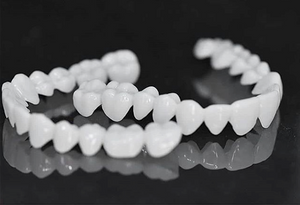 1 Pair of The Ezclip Snap on Veneers instant smile
Regular price
$139.99
Sale price
$59.99
---
Bad teeth? Want to get a natural smile instantly? Restore your confidence and back your smile with Snap-On veneers. It has been designed to disguise crooked, stained, missing and gapped teeth. Conforms perfectly to your mouth whether you are a man or woman. Its safe and easy to use. Moreover, these veneers help you will all your dental needs. It looks like a natural set of teeth. Upgrade your smile today.
Fast Delivery Available(Most areas can be delivered in 3-5 days)

100% Money Back Guarantee
If for whatever reason you're not completely satisfied, then return the product within 90 days
SATISFACTION GUARANTEE
Now you can improve your smile without fixing your teeth – It's all done with NO Dentist Visit. New technology has made removable dental veneers incredibly affordable. Redesign and straighten the appearance of your smile: gapped teeth, missing teeth, chipped teeth, broken teeth, crooked or misaligned teeth.
Watch Video
 Benefits:
USAGE: for whitening teeth , it can be directly attached to the teeth. It can be dissolved automatically when it meets hot water, which is convenient for next use. These veneers are simple and easy to use.

EASY INSERT: This is a special custom made mold that works to disguise crooked, stained, missing and gapped teeth. It includes moldable material that you can sculpt into a realistic tooth in minutes.

SMILE WITH CONFIDENCE: This beautiful denture can make you smile more. Now you smile freely with confidence. Construct a durable tooth replacement from the comfort of your home.

SAFE FOR ORAL USE:  Made to look like natural teeth, you can Eat & Drink with these veneers!
Instructions:
Boil a cup of water.



Place the acrylic material inside the water for 1 to 3 minutes (so they become malleable).
Place the softened material into the veneers mold then place the veneers inside your mouth - using your fingers to form the veneer around your teeth.

Wait until the material is hard enough to keep its shape then place it in a cup of cold water to harden the mold.

This will enable you to 'snap' your smile into place at any given moment!
⭐️⭐️⭐️⭐️⭐️"I thoroughly enjoy mine didn't know how great it was to smile again." Matthew R.
 ⭐️⭐️⭐️⭐️⭐️ "Omg I received my veneers a couple days ago. I'm already used to them and I can't even feel that I'm wearing them. I have not felt this level of confidence in a long time!" Abby S.
⭐️⭐️⭐️⭐️⭐️ "These continue to amaze me!! Better than a very expensive pair I tried! Fantastic. If you are in need of a new smile, get them NOW!" Joanna B.